A French woman and a British man have been found safe two and a half days after they went missing while diving off the coast of Malaysia, but the man's teenage son is still missing, Malaysian police said on Saturday.
Alexia Alexandra Molina, an 18-year-old French woman, and Adrian Peter Chesters, a 46-year-old Briton, were spotted by fishermen in the waters off Pengerang at around 1 am on Saturday (1700 GMT on Friday), Mersing district police chief Cyril Edward Nuing said.
"Both victims are now in hospital for further treatment and both are reported to be in stable condition," he was quoted as saying by Malaysia's news agency BERNAMA.
"The fourth victim has still not been found and we are intensifying our search and rescue efforts," he added.
Nuing said that the search for Chesters' 14-year-old son, Nathan Renze Chesters, a Dutch citizen, will be expanded to Indonesian waters with the help of the Indonesian authorities.
"We believe there is a high likelihood that he is no longer in Malaysian waters based on the movement of sea currents, as well as the time and location where the other victims were found," he said.
Singapore's authorities have also been informed about the matter.
The trio went missing along with their instructor on Wednesday during a diving training activity near Tokong Sanggol, an island off the coast of Mersing in Johor state.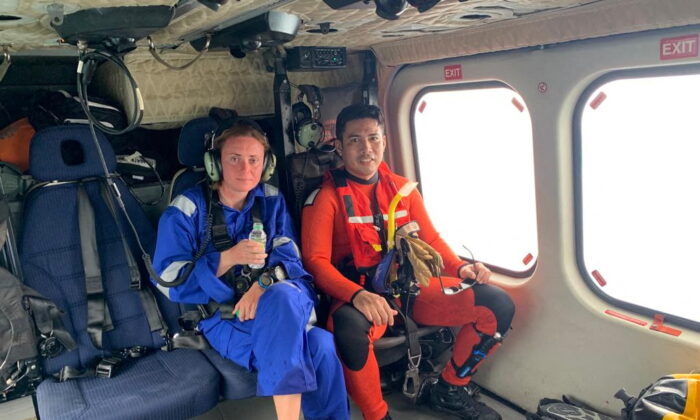 The Norwegian instructor, 35-year-old Kristine Grodem, was found safe on Thursday after drifting 30 nautical miles from the scene. She was admitted to the hospital in a stable condition.
Grodem told police that all four divers surfaced about an hour into their dive but were unable to locate their boat, they were then separated by the strong currents.
Their boat operator, who appears to be in his 20s, was detained after testing positive for drugs, according to Johor police chief Kamarul Zaman Mamat on Thursday.
The man was initially summoned to give his statement about the incident, Kamarul said, adding that authorities will also conduct an investigation into the dive center.
"We will investigate in terms of their diving equipment, the dive center, and so on. A forensic team will be arriving. If there is misconduct and so on, we will investigate as well, "he added.
The search operation involved the deployment of 90 members and officers from various agencies, including 30 divers, 18 boats, and two helicopters, Malaysian news agency Malay Mail reported.