Running battles in Nigeria between heavily armed bandits and security forces have claimed more than 80 lives since March 6 while thousands of local villagers near the clashes have become internally displaced, The Epoch Times has learned.
The firefights between motorcycle-riding bandits armed with assault rifles and small landowners using homemade single-shot rifles have been frequent since early January, and fit into the emerging picture of lawlessness spreading across five of Nigeria's northwestern states.
At least 18 soldiers and a policeman were killed on March 8 when a bandit gang ambushed a convoy of vehicles in scenic Kebbi state, known for its herds of transient elephants and hippos in the Sokoto River.
Deputy Gov. Samaila Dabai Yombe said a convoy of armed security protecting him was ambushed by bandits in the town of Kanya, in southeastern Kebbi as they made their way towards Wusagu County, according to Reuters.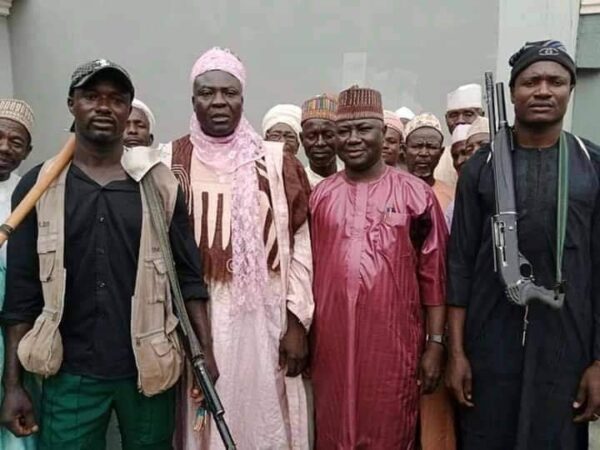 The bandit gang was not identified but could have been any among the dozens that use the roads traversing southern Kebbi, which borders Niger state on the south, Zamfara to the east, and Sokoto to its north.
The ambush was preceded by a bloody clash in nearby Sakaba County on March 6, that saw 62 armed volunteers known as vigilantes killed by bandits, officials told The Epoch Times. More than 50 of the terrorists were reportedly killed in the encounter, said Garba Rabiu, the special security adviser to Kebbi's state governor.
A subset of the vigilantes in Kebbi known as "Yan Sa Kai" stormed the sparsely forested Birnin Daji area of ​​Sakaba County on March 6, police spokesman Nafiu Abubakar told The Epoch Times.
The team targeted remnants of bandit terrorists fleeing military airstrikes in Niger state to neighboring Zamfara state.
"There is an ongoing operation in that [area] and the Yan Sa Kai [the vigilantes] is part of it — only that this time around, they went on their own, "Abubakar said.
According to Reuters, the bandits were tipped off to the operation, leading to a deadly ambush of their motorcycle column by the terrorists.
"They lay in ambush, hid their motorcycles in the shrubs, circled us, and opened fire from different directions," Usman Sani, a retired soldier who heads the Yan Sa Kai group in Kebbi, told Reuters. Sixty-two vigilantes were killed in the battle, he said.
Of that number, 14 were reportedly vigilantes from Niger state who had joined forces with their Kebbi counterparts.
"There were vigilantes from Niger that were involved," Umar Bagna, commissioner for internal security in Niger state, said in a phone call.
"They [terrorists] came into Niger and we chased them out. They moved over to Kebbi. We recorded some casualties on our own side — they killed some of our vigilantes and other voluntary support group members… but again, they too suffered losses, and our vigilantes have control, "Bagna said.
The terrorists recorded more than 50 casualties in the encounter, Rabiu said.
"The operation happened in the night, and they carried most of their dead away, but from the corpses we recovered after we followed up with air support, they lost more than 50 people."
Terrorists Access Way
The clashes occurred along the boundaries of Kebbi with Zamfara and Niger states — a major access way for terrorists in the embattled region, according to Rabiu. Dozens of civilians had been killed by terrorists transiting into the area in recent months, forcing residents in six adjoining districts to flee, he said.
Unlike Zamfara and Niger states — where terrorists are taking towns and setting up their own governments — the terrorists in Kebbi attack for resources with which they acquire weapons, Rabiu said.
"These bandits who have absolute knowledge of the local terrain often penetrate into Kebbi to areas where they suspect there is a large concentration of cattle to rustle," said Rabiu, lamenting that the military is unable to protect all communities in the state.
"There are a lot of ungoverned spaces," he said.
The number of bandits in the northwestern states has swelled during the past 11 years and now totals more than 10,000, according to expert Murtala Rufa'i.
Rufa'i and "War on the Rocks" coauthor James Barnett, a research fellow at the Hudson Institute in Washington, have assessed that the bandits outnumber the terrorist insurgencies known as Boko Haram, Ansaru, and Islamic State of West Africa, and are currently taking more lives in their attacks.
Vigilantes are increasingly taking up significant roles in place of the military in Kebbi and the country's north, retired army major Gabriel Ad'Ofikwu told The Epoch Times.
"[They are] a response to the murderous activities of the [bandits] who have been going about killing and appropriating lands, "he said.
Rabiu acknowledged seeking help from vigilantes.
"We make use of them where there is the absence of military presence. We engage them one way or the other to assist the military because of their knowledge of the local terrain. "
The Yan Sa Kai vigilantes in Kebbi have deployed against bandits in nearby Niger, Zamfara, and Kaduna states, Rufa'i said.
"Their [operation] is beyond their own territory. It is [the] fear of invasion that has made them form this group and move towards addressing this problem [of banditry] in their neighboring communities, "he said.
"They share borders with Zamfara, Kaduna, and Niger, and these are frontline states [for banditry]. "
He says their constant harassment of bandits has infuriated the terrorists, who have in recent months retaliated with a series of targeted attacks across the northern region.
The latest clashes ensued hours after a feared bandit warlord, Bello Turji, granted an interview to Daily Trust newspaper and blamed the bandits' activities on the government's approval of vigilantes.
"If the government had brought them to order, things would not have been this bad," he said. "Because it's a volunteer group — they were not established by law."
Turji reprised his letter to Nigerian authorities reported by The Epoch Times in January, offering to disarm only if vigilantes would disarm as well.