When shots are fired and villages are burning, they's Nigeria's front line: Young men carrying single-shot firearms made by local blacksmiths are the first to charge into combat against bandit gangs on fleets of motorbikes or jihadist insurgents driving gun trucks.
Increasingly, the vacuum left by conventional military has been filled by armed civilian volunteers called vigilantes or neighborhood watchmen. Yet the vigilantes often form the only effective line of defense for villages and towns under attack by bandit militias, an Epoch Times investigation has learned.
Civilian vigilantes were tested in the early hours of Feb. 21 in an unprecedented attack with improvised explosive devices (IED) in the embattled county of Shiroro on the border of the states of Niger and Kaduna.
"The use of IEDs by terrorists is strange and has created panic among inhabitants [of Shiroro]"State vigilante leader Sani Abubakar Kokki told The Epoch Times in a text message.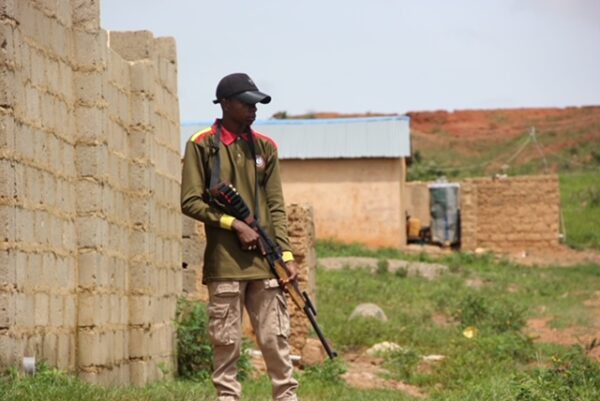 Hundreds of radicalized bandit gangs have been attacking the combined army and vigilante volunteers in Niger state on and off for months. The attacks are both "confrontations and reprisals" against vigilantes, Kokki told The Epoch Times.
Regular Nigerian army troops are stretched thin to defend Niger state, which has the largest land area in the country.
In recent months, vigilantes have independently raided terrorists' camps, according to Pwajok Pwajok, the leader of a local unit.
"We carried out some attacks on their hideouts in Shiroro last year," Pwajok told The Epoch Times by telephone.
"We arrested many of them, including one notorious bandit who later escaped from the Jos prison," said Pwajok, who is also the North Central commander in charge of crime at the Hunters Council of Nigeria.
Though largely untrained, volunteer civilian guards working alongside the Nigerian army have played key roles in victories against terrorists in northern states in recent months. Two major offensives by the Nigerian military assisted by vigilantes killed more than 50 bandit terrorists on Feb. 10 and Feb. 12, according to officials.
The volunteers fought side by side with a combined army, police, and air force team in the forests of Niger and Kaduna states against a feared warlord known as Yellow Jan-bros. The teams rescued more than 20 hostages and recovered stolen cattle, according to media reports.
Gunmen believed to be bandit terrorists kidnapped 30 civilians in southern Kaduna in the corridor leading to the Nigerian capital of Abuja between Feb. 15 and 16. In the early hours on Feb. 15, bandits went from house to house in the small town of Idon in Kajuru county, kidnapping 22 residents, according to media reports.
Less than 24 hours later, the residence of another traditional leader Ibrahim Tanko in Jere — a farming town along the Abuja – Kaduna highway — was invaded by gunmen who kidnapped eight of his family members. That wasn't the first time for such an attack: another traditional leader, Alhassan Adamu, was kidnapped in the same county last July.
Though rarely reported in Western media, the sprawling forests in five of Nigeria's western states have devolved into a war zone every bit as deadly as northern Iraq in the early days of the ISIS terror group.
While military spokesmen insist that the army is gaining the upper hand, that claim is belied by the increasing frequency of bandit attacks, including mass kidnappings of sleeping residents in Kaduna.
President Orders Military Raid
In January, President Muhammadu Buhari ordered a military crackdown on terrorists in Niger state.
The Nigerian air force mobilized a bomber jet and a helicopter gunship to support outnumbered ground troops to fight the terrorists.
In their first raid in a forested area of ​​Niger state's Magama county on Feb. 10, a combined force of army troops and vigilantes directed fighter aircraft in strikes on the hideouts of terrorists and snipers.
At least 37 terrorists were reportedly killed in the operation, while 20 others who had escaped to the north of Kaduna were killed hours later.
Twenty hostages and hundreds of cattle rustled by the terrorists were also recovered, according to deputy superintendent Wasiu Abiodun, the Niger state police spokesman, who confirmed the assistance by vigilantes.
"Tactical teams of the command sent for reinforcement to the area and military personnel with the vigilantes engaged the bandits in a fierce gun battle along Ibeto cattle route which lasted for about two hours while the hoodlums were trying to escape," he said in a statement .
Direct Threat to Terrorists
Vigilantes are making a difference in the war against bandits, according to David Otto, a London-based defense consultant to the Nigerian army.
"When vigilantes have the slightest chance to strike at insurgents, they do not hesitate," he told The Epoch Times.
"It's a dog-eat-dog scenario. Most vigilantes are recruited based on their knowledge of the local geography and previous links with insurgents' operational dynamics, "Otto wrote.
"The aim of insurgents is to occupy local territories and win hearts and minds — vigilantes are tasked to prevent such [forceful] occupation. "
The vigilantes have been a prominent force against terrorists locally, Niger state's commissioner of internal security, Umar Bagna, said.
"It's a collective effort," Bagna told The Epoch Times in a phone call. "There are conventional and unconventional securities [vigilantes] that are all working towards safeguarding our communities and each one has a specific role. "
Right to Bear Arms
Niger's Gov. Sani Bello recently signed into law a measure that allows vigilantes to bear arms to fight terrorists.
While the military is believed to be the most powerful force against terrorists in Niger state, it's unable to garrison all the communities raided by bandits since 2011.
A military presence has not stopped the expansion of bandit gangs, Dr. Murtala Rufa'i, an expert on the Nigerian bandits, told The Epoch Times by phone.
"The bandits are still occupying their forest refuges where they have been for years," he said.
Shiroro has been the scene of multiple bomb explosions, believed to be IEDs, even as the devices have been used by bandit gangs in Zamfara state for years, according to Rufa'i.
Of concern to the government is the fact that Shiroro sits just 124 miles from Abuja, the capital. The pervasive use of IEDs during the Iraq War caused tens of thousands of coalition casualties over a 10-year period.
There are close to 100,000 armed bandits in the northwest alone, according to Sheikh Ahmed Gumi, who negotiates with the Nigerian government on their behalf.
Villagers Trust the Vigilantes
Reporters speaking to The Epoch Times in Minna, the capital of the state, said local residents trust vigilantes to protect them more than the military.
"The people have more trust in the vigilantes because they are members of the same communities and they can risk their lives to defend them," one reporter, Matthew Jwantu, told The Epoch Times by telephone.
During a recent attack on a vigilante base in the town of Galadiman Kogo, in Shiroro county, distress calls to a military unit less than 10 miles away were ignored, a cleric in the town told The Epoch Times on background.
"They came when the attackers had left," the cleric said.
A notice was issued to villagers four days before the attack, according to local media, while a small military unit in the village was withdrawn to "restrategize," according to Noel-Barje.
Yet Bello blamed locals for not sharing information about threats, according to a statement issued by his press officer on Jan. 31.
The perpetual failure by the military to respond to threats in local communities has shattered the trust of many residents, vigilante leader Kokki said.
"For us, we always report threats, but it's a waste of time," Kokki told The Epoch Times by phone.
"Left for us at the local level, we should rather keep quiet when we see anything because even when you report, no action will be taken."