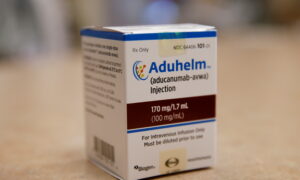 Medicare will only cover a drug for Alzheimer's disease for patients in clinical trials, President Joe Biden's administration announced on April 7.
The drug, Aduhelm, is made by Biogen.
The government said in January that it planned to limit coverage of the drug, which costs $ 28,000 a year, to trial enrollees.
But the announcement was preliminary. The Centers for Medicare & Medicaid Services (CMS) launched a public comment period and ended up reviewing over 10,000 comments and hundreds of documents to determine whether to keep the plan in place or change it.
The agency chose to stay the course, although the final determination does change which trials are eligible.
Under the preliminary rule, only trials approved by CMS or sponsored by the National Institutes of Health would be considered. Under the final rule, any trial approved by the institutes or the Food and Drug Administration is covered.
The final rule "reflects CMS 'commitment to provide the American public with a transparent, trusted, evidence-based decision — without regard to cost — that is made only after a thorough analysis of public feedback," Chiquita Brooks-LaSure, the CMS administrator , said in a statement.
"There is the potential for promise with this treatment; however, there is not currently enough evidence of demonstrating improved health outcomes to say that it is reasonable and necessary for people with Medicare, which is a key consideration for CMS when making national coverage determinations, "added Dr. Lee Fleisher, the chief medical officer at the agency.
Biogen said in a statement that the CMS decision was "unprecedented" and that it "effectively denies all Medicare beneficiaries access" to the drug.
The company urged CMS to reconsider the decision.
Over 6 million older Americans have Alzheimer's, a brain disorder that progressively impairs memory and other functions, according to government estimates. The number is expected to rise to 14 million by 2060 unless interventions are introduced.
No drug for the disease had been cleared before US regulators approved Aduhelm, also known as aducanumab, in June 2021.
Critics say the approval was based on thin evidence and the decision sparked the resignation of several top Food and Drug Administration scientists.
Supporters say the drug could help prevent or slow brain impairment, pointing to a trial that concluded a dosage slowed cognitive decline. CMS says it "may reduce plaque on the brain."
Other trials are ongoing, and at least one other one found no positive effect.
The drug can only be given to patients with "with mild cognitive impairment or mild dementia stage of disease," according to regulators.
The high cost of Aduhelm was cited by government officials when they boosted Medicare premiums in late 2021.