Walker and Jansen's sudden disappearance drew national attention, sparking shock among loved ones and launching a two-week search of the South Saskatchewan River.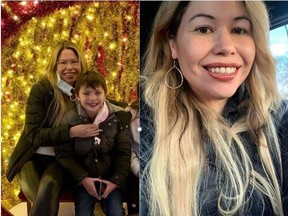 Article content
Details of the expected return of Dawn Walker and her seven-year-old son Vincent Jansen to Canada continue to be worked out by officials on both sides of the border after what Saskatoon police say was their illegal entry into the United States.
Article content
City police, in conjunction with the United States Department of Homeland Security, announced on Friday that the mother and boy were found in Oregon City, Ore. around 11:30 am They had been reported missing two weeks earlier.
"Investigators were recently successful in establishing that the two had illegally entered the United States. The investigation was then able to track them to the Oregon City location where cross-border law enforcement co-operation was utilized," police said in a news release.
"Both are reported to be safe and well. Agency representatives are currently working out the details of arranging for their return to Canada."
Walker and Jansen's sudden disappearance drew national attention, shocking loved ones and launching a two-week search of the South Saskatchewan River by land, air and water. Walker's leading role in the Federation of Sovereign Indigenous Nations also helped spur prominent Indigenous leaders across the province to rally to her cause as searches carried on with little new information emerging.
Walker and Jansen were last seen on July 22. Her red Ford F-150 truck and personal belongings were later found at Chief Whitecap Park, near the South Saskatchewan River. Earlier this week, Saskatoon police said they were going through Walker's cellphone and banking records to uncover clues.
"At this time, US authorities are considering the implications and any potential action as a result of an illegal entry into the US," police said. "Pending any action by US authorities, Dawn Walker will be returned to Saskatoon to meet with investigators. US agency representatives in consultation with the SPS are currently working out the details of returning Vincent Jansen to a legal guardian."
Article content
Theresa Walker, Dawn's mother, said in a statement that the family was "elated" to hear the news, but added that she expects further challenges in the days and weeks ahead.
"Our prayers have been answered. The past 15 days have been extremely difficult on our family and community," she said.
The Jansen family — including Vincent's father Andrew — declined to comment on Friday.
In a brief update on the GoFundMe page that had been set up to raise money to aid in the search for the boy, organizers wrote, in all caps, "WE FOUND HIM." They expressed thanks for people's support.
"Our family is ecstatic and can't wait (to) have Vinnie home!"
Saskatoon police said the "investigation will continue to unfold rapidly" and that a media availability is scheduled for Monday.
A spokesperson for the Oregon City Police Department said their involvement was locating where Walker was staying and co-ordinating with the US Department of Homeland Security, which is leading the investigation in the US. .
Chief Richard Stonechild of Okanese First Nation, where Jansen and Walker are members, said he's "become aware of significant child welfare concerns regarding our young band member Vincent Jansen" and "will assert our self-determination and jurisdiction to ensure all measures are taken. "
Walker is the executive operating officer of the FSIN. She is also the author of four novels and has worked as a columnist at the Saskatoon StarPhoenix and Eagle Feather News. On Wednesday, she was shortlisted for the 2022 Stephen Leacock Memorial Medal for Humour, a Canadian prize for literary humour. The award includes the medal and a $25,000 prize. "The Prairie Chicken Dance Tour" is one of three works on the shortlist. The novel was published in September, under the name Dawn Dumont.
Article content
She ran in the 2021 federal election as Dawn Dumont Walker.
FSIN Vice Chief Heather Bear said complex issues can surround an Indigenous woman's disappearance.
"It is a shame that our women feel helpless within the current justice system," she said. "Despite being a successful writer and having a law degree, what is clear is that Dawn was no exception to this."
Chief Bobby Cameron said the case highlighted the urgency of the issued of missing and murdered Indigenous women and girls, adding that he was concerned Walker "may have felt she had no other choice but to take the drastic action that she did."
— With Canadian Press files
Dawn Walker, author missing along with son, shortlisted for Canadian literary award

Dawn Walker search: Investigators searching cellphone records, banking history of woman missing with son
The news seems to be flying at us faster all the time. From COVID-19 updates to politics and crime and everything in between, it can be hard to keep up. With that in mind, the Saskatoon StarPhoenix has created an Afternoon Headlines newsletter that can be delivered daily to your inbox to help make sure you are up to date with the most vital news of the day. Click here to subscribe.