As the Biden administration gears up to end health mitigation rule Title 42, which limits entry into the United States during the pandemic, Congresswoman Yvette Herrell (RN.M.) said all states are now becoming border states because of the massive amounts of drugs being smuggled and killing a record number of Americans.
"When they take [Title 42] away, the implications are going to be terrifying, "Herrell told the host of NTD's" Capitol Report "Steve Lance during a recent interview. "Because now not only is New Mexico, Arizona, California, Texas — not only are they border states, every state in the nation is truly a border state by virtue of the fentanyl, the drugs coming across the southern border being pushed up into the interior, people that are now being flown all over the nation. "
Herrell said we are on track to see 2 million illegal immigrants come across the southern border by the end of 2022, which is greater than the population of her state, adding that "this is a huge cost to the American taxpayer."
"I think we are starting to see some Democrats… and they know it's a serious issue. I mean, largely, the fentanyl coming into this country, it's made by China, coming through our southern border, and then being pushed out. "
According to U.S. Customs and Border Patrol in 2021, "CBP officers at the eight ports of entry extending from Brownsville to Del Rio that comprise the Laredo Field Office seized 87,652 pounds of narcotics that would have commanded a combined estimated street value of $ 786 million." This included 588 pounds of fentanyl, which is up 1,066 percent from FY 2020.
An estimated 105,752 people died of drug overdoses in the 12-month period ending October 2021, according to provisional data from the U.S. Centers for Disease Control and Prevention's National Center for Health Statistics.
Congressman for the border state of Arizona Rep. Paul Gosar (R-Ariz.) Has been outspoken about the Biden administration's immigration policies and how they are contributing to the drug crisis, and he said fentanyl is the leading cause of death for people between 18 and 45 and called for closing the border to stop the flow of these type of drugs.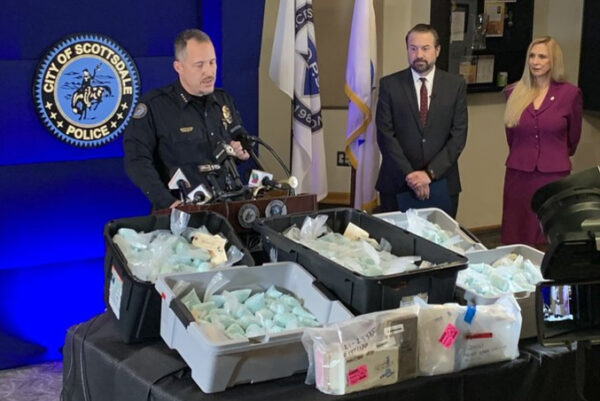 "Joe Biden and Congressional Democrats' open-border policies have created the worst border crisis in American history and have allowed deadly fentanyl to flow like a river across our borders, directly contributing to the fentanyl crisis in America," Rep. Paul Gosar (R-Ariz.) Said in an April press statement.
Meanwhile, Secretary of Homeland Security Alejandro N. Mayorkas said his department is increasing its capacity to deal with the influx of illegal immigrants after the administration ends Title 42, by using standard procedure under Title 8.
"We will be implementing our asylum process as it was designed," Mayorkas said while speaking at the National Action Network convention in New York on April 8.
"Nonetheless, we know that smugglers will spread misinformation to take advantage of vulnerable migrants. Let me be clear: those unable to establish a legal basis to remain in the United States will be removed, "said Mayorkas in a DHS press statement. He said the department's strategy includes 600 law enforcement officers "redeployed to the border," prosecuting drug smugglers, and ramping up vaccinations.
The Epoch Times reached out to DHS for comment on the illegal drugs coming across the border.
Herrell said that the effects of illegal people and drugs coming across the southern border is so bad that some Democrat Congress members who represent border states are now even speaking out about keeping Title 42.
She wants the public to know that drug cartels are being enriched by trafficking thousands of people, with one person charged a minimum of $ 4,000 to cross.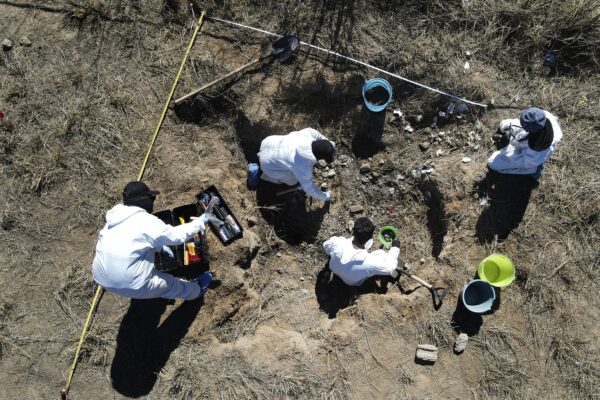 "Now we're seeing about 8,000 people a month coming across the border. I mean, we can do the math. The cartels are making a lot of money, and shame on our administration for allowing this to happen. We're funding the cartel, "said Herrell.
"What's frightening is the cartel are building themselves an empire, not only financially, but with people that are coming into our country. They're in control of all of this on the southern border, "she added.
Critics, including Herrell, say the Biden administration and DHS are failing the American people by allowing this influx.
"The federal government was created by the states… not the other way around. And so, there is a constitutional responsibility for them to protect our borders and to protect our health, safety, and welfare. They are failing on that responsibility, "said Herrell.